Regina Carmeli Retreat House
Welcome to the website of the Regina Carmeli Retreat House
We are happy to introduce you to our retreat house and all the activities offered. We have silent retreats, retreat weekends/days, faith enrichment programs as well as opportunities to spend days alone in quiet and reflection. Furthermore, it is also possible for first communion or confirmation groups to come here in preparation to receive the Sacraments. It is also possible to have conferences or meetings held here, e.g. prayer groups or youth groups It is also possible, depending on circumstances, for groups who have their own programs to utilize our space or to spend a few days here in an atmosphere of prayer and quiet.
In the spirit of the Carmelites of old, we are here for you today.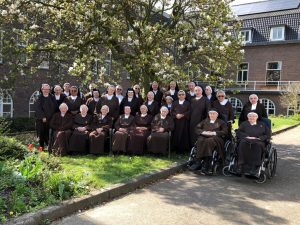 We are the Carmelites of the Divine Heart of Jesus, otherwise known as the "Kollenberg Sisters"
Many people in Sittard are familiar with us because of the orphanage we had here.
Address
Regina Carmeli Retreat House
Kollenberg 2
6132 AL Sittard
Netherlands
Prayer times and liturgical celebrations in the Motherhouse
Monday – Friday
6.20 a.m. Laudes
07.00 Uhr Holy Mass, meditation
11.00 a.m. Office of Readings/Daytime Prayer
1st Friday: Adoration from 1.30 p.m. – 5.00 p.m.
(Friday: 5.00 p.m. Divine Mercy chaplet)
5:10 p.m. Vespers/Meditation
8.10 p.m. Compline
Saturday:
6:20 a.m. Lauds/Meditation
9:00 a.m. Holy Mass
11.00 a.m. Office of Readings/Daytime Prayer
4:40 p.m. Meditation
5:10 p.m. Vespers, Te Deum, Salve Regina
Sundays and Solemnities
7:00 a.m. Lauds
9:00 a.m. Holy Mass
11.00 a.m. Office of Readings/Daytime Prayer
Sunday: Adoration from 1.30 pm – 5.00 pm (not after the first Friday)
5:00 p.m. Benediction and Vespers
7:30 p.m. Compline
The retreat house is close the to the city market Sittard is one of the oldest cities in the Netherlands (established in 1243). The city has a wide array of buildings and museums. In 2000 Sittard was named the "greenest" city in the Netherlands.
There is a bus station right in front of the retreat house.
Behind the retreat house lays "De Kollenberg", a natural park area where you can hike to your heart's content. The Saint Rose chapel is in this "green belt". St. Rose is the patron saint of Sittard.
Other areas of interest that are close by:
There are 5 churches in the inner city of Sittard – the city can be described as the city of churches.
Münstergeleen: Shrine to the Saint "Karel van Sint Andries" or "Saint Charles of Mount Argus" (3 km)
Maastricht (28 km) has many different churches, such as "Onze Lieve Vrouw 'Sterre der Zee' " (Our Lady Star of the Sea) Basilika and the "Sint-Servaas" Basilica
Heppeneert: Shrine "Onze Lieve Vrouw van Rust" Our Lady of Rest (15 km)
Scherpenheuvel: Shrine "Our Lady of Scherpenheuvel" (70 km)
Banneux: Shrine of Our Lady of the Poor "Jungfrau der Armen" (80 km)
Aachen: the Aachen cathedral is especially noteworthy (35 km)
Kevelaer: Marien shrine (88 km)