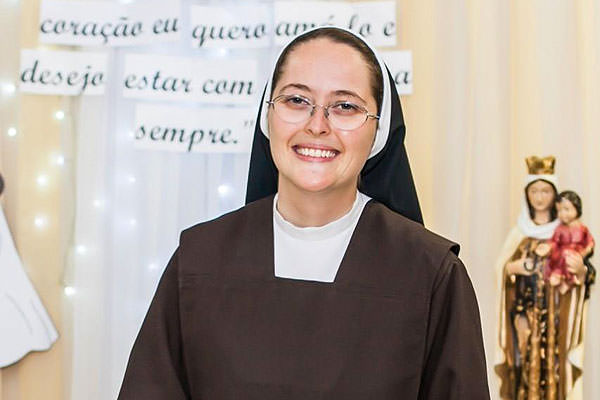 Sister Bruna Maria do Espírito Santo born in Santa Catarina – São José- Brasileira.
I came from a Catholic family who did not practice their faith. My grandmother, Maria Catherine Xavier, attended the church the most. By her example as a woman of prayer and service, she always tried to lead us to church and to receive the sacraments. Her presence helped sow the seed of faith in my life.
When I turned a teenager, I left behind the things of God and the Church. And with this I went searching for other things to fill me, but these vanities, these superfluous things left me empty. I realized that I was in a void. I wanted something to fill me again as I realized that my life was without meaning.
Between the ages of 14 to 16, I was studying and working, but something was missing until one day I went to Mass with an aunt. There by God's grace I was invited to participate in a group in the church: the Eucharistic Youth Movement (a young branch of the apostolate of prayer). I was very excited by the invitation and perhaps it was this opportunity that would bring me life again. And so it was. I began to participate in this group and through it I met the Carmelite Sisters of the Divine Heart of Jesus.
When I began to participate in this group, my life changed completely. I felt more filled and loved by God. Once a month we went to the Sister's convent.
When the invitation to go there came, I was excited because I had never seen a real nun in front of me. But I confess that I went without any interest in being a religious, because I didn't even know what that was, and I also had other plans for my life. In this group there was a friend who really wanted to be a nun and through her enthusiasm and desire, I began to accompany her there.
My vocational awakening took place in a meeting in January 2008 with four young people. When my friend invited me, I accepted but not with the interest of getting to know my vocation, but I accepted more to leave home for a while because it was a holiday, and I wanted to do something different. But that's when "I fell off my horse." From the moment I arrived there I realized that the Sisters were happy, they transmitted a joy that infected me. Throughout the days, I was able to get to know their lives more closely: a life of prayer, of work, of witness, of self-giving to others… all of this filled me with enthusiasm… being of God… working for the things of God forever brought me great joy. It was at this moment that I strongly felt the desire to be one of them and consecrate my life to God, but I was very embarrassed and did not want to admit it. I ended up denying for a long time my desire to be a nun. Carmel continued to attract me, and so I began joining the vocational meetings for two years. It was a good time where I was able to mature in my vocation and to perceive the action of God in my life and thus to give an answer.
I entered March 19, 2010 in Jacareí – São Paulo. And on December 6, 2019 I made my perpetual profession. I can testify that I am very happy in my vocation, and I firmly believe I have been chosen by Jesus to be His spouse and to be a Carmelite of the Divine Heart forever.